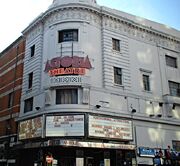 G-A-Y Club is a gay nightclub in central London, usually based at the London Astoria. It is owned by the Mean Fiddler Music Group and run by promoter Jeremy Joseph. The venue attracts many major music acts keen to launch new work. Many mainstream singers, particularly pop bands, and boy-bands, have performed at the nightclub, including Kylie Minogue, Girls Aloud, and Boyzone. Recently, Madonna performed at G-A-Y in November 2005 to promote her new album, Confessions on a Dance Floor, which reinvigorated the club's reputation on London's gay scene. Over 1000 people lined up in the street overnight in freezing temperatures for tickets.
Situated on the corner of Soho, next to Oxford Street, the location's convenience attracts a large crowd. G-A-Y plays gay pop, modern pop and retro (usually disco). The crowd is very young, and thousands attend at weekends. G-A-Y is associated with G-A-Y bar, also owned by the Mean Fiddler Music Group, on Old Compton Street, which often sells discounted tickets to weekend performances, and also is one of the main locations, as well as Ku Bar, for G-A-Y flyer boys.
G-A-Y is unusual amongst nightclubs, since it is housed in a theatre, the upper seating being mostly replaced by a tiered series of flat areas for dancing, and the lower seating constituting the main dancefloor, along with the stage. Meanwhile, the upper foyer forms a second dancefloor playing slightly (only very mildly) more modern music. The club is open Monday, Wednesday, Thursday, Friday, and Saturday.
External links
Edit
Ad blocker interference detected!
Wikia is a free-to-use site that makes money from advertising. We have a modified experience for viewers using ad blockers

Wikia is not accessible if you've made further modifications. Remove the custom ad blocker rule(s) and the page will load as expected.