Red was a nightclub located in Washington D.C.. It shut its doors on October 23rd, 2005, after nine years of operation. The club was owned by Farid Ali, and featured a set roster of weekly resident DJs as well as a number of guest DJs from around the U.S. and abroad.
Background
Edit
The club was located at 1802 Jefferson Street NW in Washington D.C., and was simply a basement venue with a small bar, a dancefloor, painted red brick walls, and minimal seating. The soundsystem, however, was considered the heartbeat of the club and was often referred to as one of the better sounding systems in the city. Red was known for parties that often lasted until the early morning hours.
Red was opened in 1996, and was decidedly infuential in the Washington D.C. club scene. Urb Magazine named Red the 'Best intimate nightclub' in 2003. Red was officially closed in 2005, after a four-day dance marathon. The club's owner cited rising rent as the reason for the shutdown[1]. A discussion of the club's closing by some of its patrons can be found on deephousepage.comand districtsoul.com.
Featured DJs
Edit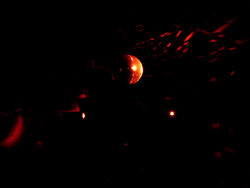 Resident DJ's at the time of Red's closing
Edit
Comprehensive list of DJ's who have played at Red
Edit
External links
Edit
Ad blocker interference detected!
Wikia is a free-to-use site that makes money from advertising. We have a modified experience for viewers using ad blockers

Wikia is not accessible if you've made further modifications. Remove the custom ad blocker rule(s) and the page will load as expected.